Testimonials
Douglas from USA
Posted on 2017.03.30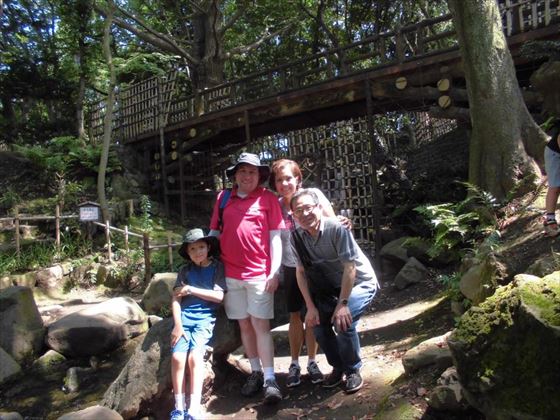 Outstanding experience with Fumi, including correspondence prior to our visit and recommendations for restaurants and sights beyond what we would have normally planned. Visited the Tsukiji Fish Market to start the day and proceeded to spend the rest of the day exploring the Togoshi Ginza neighborhood far from the areas frequented by tourists. Enjoyed lunch at a small restaurant and visited a local neighborhood park. Truly an outstanding overall experience that reflected Fumi's passion for sharing his insights into the culture, sights, and people of Tokyo and Japan. :The name of the guide is Fumihiro Mochimaru.
Sander from Netherlands
Posted on 2017.03.30
Nisamar from Spain
Posted on 2017.03.30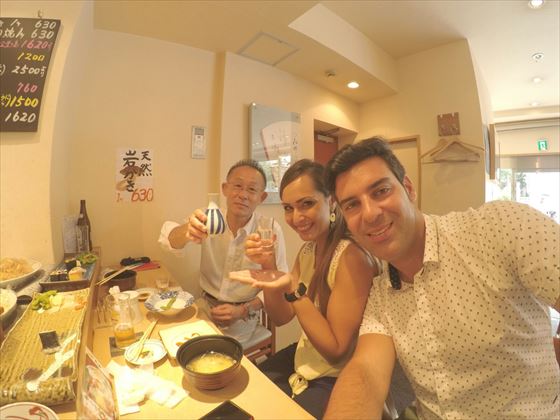 Our guide, Kiyo, was simply exceptional. His level of the Spanish language as well as His knowledge about Tokio and Japanese culture were impressive. We are so grateful to him and to TFG! We Will recommend Our experience to other tourists. Congratulations for your excellent work! :The name of the guide is Kiyotoshi Ota.
Sherene from Malaysia
Posted on 2017.03.30
Riccardo from Italy
Posted on 2017.03.30
Paolo from Switzerland
Posted on 2017.03.30
Vianey from Mexico
Posted on 2017.03.30
Jose from Mexico
Posted on 2017.03.29
America from Spain
Posted on 2017.03.29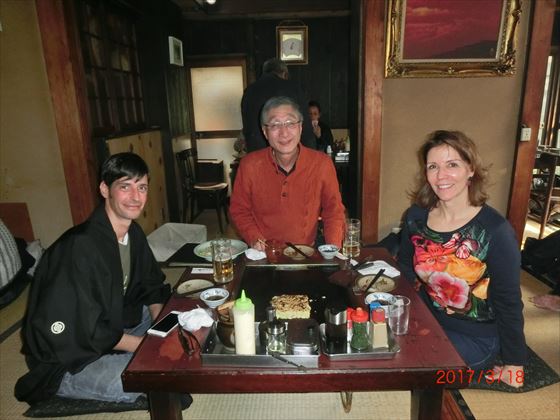 Thanks TFG. Muchas gracias.
Nuestro guía en Tokio, Koichi, nos ayudó muchos, es alegre, paciente, te cuida mucho y fueron dos días estupendos. Y nos llevó a unos restaurantes fantásticos, donde pudimos probar cosas nuevas.
Thank you Koichi for your care and concern with us. It made our visit better.
Unforgettable.
:The name of the guide is Koichi Yamazaki
Anna from USA
Posted on 2017.03.29
Review Ryuichi Yamamura was the guide assigned to us on March 24. He took us to the Asakusa area as well as the Ueno, Yanaka neighborhoods and by special request, a yakitori lunch. We spent 7 hours altogether, not only to see popular sights like Sensoji but also time to talk and exchange much information about the way of life in Japan. Ryuichi gave us not only great information but was very generous with his time in terms of sharing in depth views of various topics like education, politics, health, etc. He has a great sense of humor and was very open to answering all our questions. No professional guide or guidebook have ever taught us so much about a place we visited as our day spent with Ryuichi. Thank you so much for letting him guide us. We feel that we have been taken around Tokyo, despite the fact that we did not cover much area, by a good friend who clearly care greatly about sharing his experiences with us.