Testimonials
Hector Gustavo Sanchez Martinez from Mexico
Posted on 2017.02.09
Elizabeth from Singapore
Posted on 2017.02.06
Wonderful time with Junko Sakata Junko Sakata was assigned to guide us one day before oour scheduled tour as the original assigned guide was not well. She sent us reminder to confirm the tour and meeting place an hour before too. She was cheerful, smiley and warm. She was very patient when we could not decide what kind of food for lunch especially the children were quick picky on food. She brought us to Ueno and Harajuku. She was able to explain and gave us some insights of the local cultures . She even went extra miles to find some information to send them to us when she knew that we are going to Kamakura on our own. The information was really helpful. Our family really enjoyed having her as our guide and we will definitely be back to Japan again. Thank you Jun-san !
ALFONSO from Mexico
Posted on 2017.01.30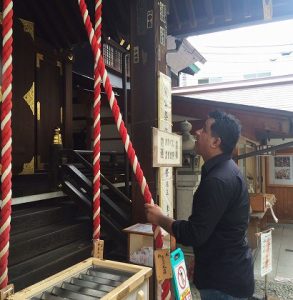 Excelente ayuda de Miho en Español
Mi guia fue Miho y me ayuda mucho a conocer la cultura de Japon y Tokio y habla muy bien el Español, muy amable y conocimos muchos lugares ; le estoy muy agradecido a Miho por toda la atención y a Tokyo Free Guide que es un excelente manera de ayudar a turistas a conocer su hermoso país. Muchas gracias desde México
Carmen from Spain
Posted on 2017.01.27
Wonderful Experience with Akio Watanabe
My husband and I really appreciate the time we spent together with Akio Watanabe on August 14th. He showed us Tokyo in the best way we could imagine; explaining us the history of the places and temples we visited, the history of Japan and sharing with us your wonderful culture. Akio is an excellent guide and a good ambassador of Japan's culture. We are very thankful with him. We will recommend TFG to our friends.
Paola from Italy
Posted on 2017.01.26
Viktoria from Australia 2
Posted on 2017.01.23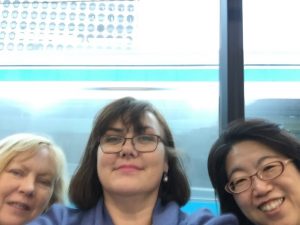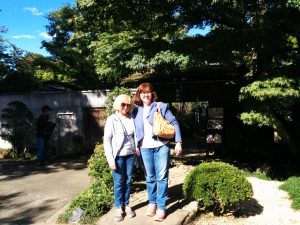 On Saturday we went to Omiya with Kaori Kataoka to see Bonsai Village. It was wonderful to go to
The Omiya Bonsai Art Museum, Saitama and then to wander
around visiting the Bonsai nurseries
and displays. We had lunch in a little
local restaurant and had a fantastic curry rice. We also
stumbled across a
great antique /second shop.
Thank you again for your great service!!
Viktoria from Australia
Posted on 2017.01.23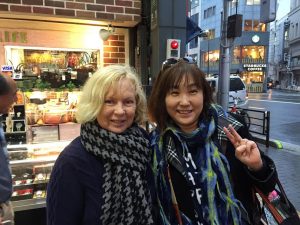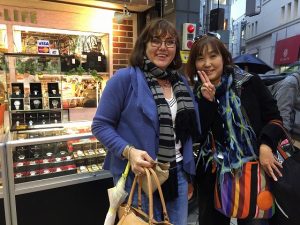 My mother and I would like to say a big thank you for organizing our two
guides that we had for our two days using your service.
On the Friday we had Akiko Miyazawa who took us to Tsukiji Market and around,
then to Asakusa by river cruise. As it was raining we only had a quick look
at
Senso-ji before heading off to look around the area and visit the Edo
Shitamachi Traditional Crafts Museum.
Lunch was wonderful at Hanabou in
Asakusa.
Marina from Malaysia
Posted on 2017.01.19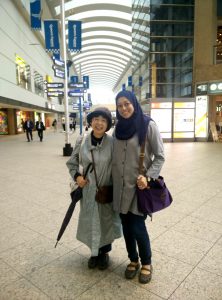 Great travel companion with Emiko Bando TFG provided a prompt and easy service! I surely happy to come across TFG website and will promote it to friends and family. Emiko was my guide on 13 Sep 2016 sight seeing in Yokohama. Though it was raining the whole day, but Emiko still was high spirited and she is in the 60s! She was a great travel companion and i had enjoyed the day very much! Thanks Emiko!!
Marina from Malaysia
Posted on 2017.01.19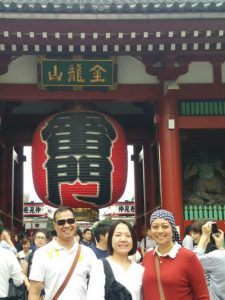 Junko Koyama was our guide on 11 Sep 2016. We requested to sight seeing in Tokyo, but we stayed in Yokohama. She picked us up from our apartment. She really tuned to our request and what we want to see. She brought is to a halal ramen eatery at Asakusa. And to be exact, we actually walked over 16000 steps! Tq so much for the company. We surely will remember you!
Lindsay from Canada
Posted on 2017.01.18
We spent Oct. 4 with Akemi Ohtaki. We were so happy to be able to see Tokyo with a local, and she was able to provide a lot of insight we wouldn't have had if we only had a guidebook. She was absolutely fantastic, and it was one of the highlights of our trip. We visited Asakusa, Shibuya, Shinjuku and Harajuku. It was a busy day, but Akemi managed to squeeze in what we wanted to see, and was very informative and friendly in our communications beforehand and while we were with her. We really enjoyed getting to spend the day with her!
Mirko & Marta from Italy
Posted on 2017.01.17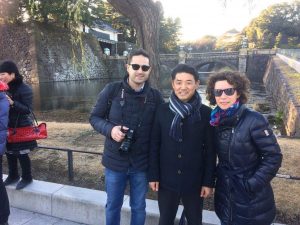 Tokyo Free Guide is a wonderful way to discover the city. Thanks to Mr. Soichi Tatsuzato on 1st January we start our trip from the old city in particular Asakusa, then we have visited Akihabara, imperial palace and a lot of ancient temples finally we arrived at Ginza. We walked 23 km!!! He was very kind and suggested us other things to see, than he has prepared us a best itinerary for a trip to Kyoto.
Brandon from USA
Posted on 2016.09.13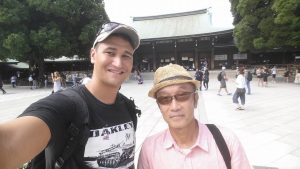 Amazing trip to Tokyo! Mr. Makita "Macky" took me on an action packed adventure through Tokyo on September 4th. We saw Asakusa shrine, Sensoji temple, Meiji shrine, Harajuku, Shibuya, and Shinjuku. I can't believe how much we saw
in one day
. If Macky agrees to be your guide, you should consider yourself fortunate. He knew dates, times, measurements, and history of everywhere we went! He was very polite and entertained my 9999999 questions, haha. I think we walked over 20K and Macky never looked tired! Thank you again Macky, and thank you TFG! Brandon