Testimonials
Paolo from Switzerland
Posted on 2017.03.30
Vianey from Mexico
Posted on 2017.03.30
Jose from Mexico
Posted on 2017.03.29
America from Spain
Posted on 2017.03.29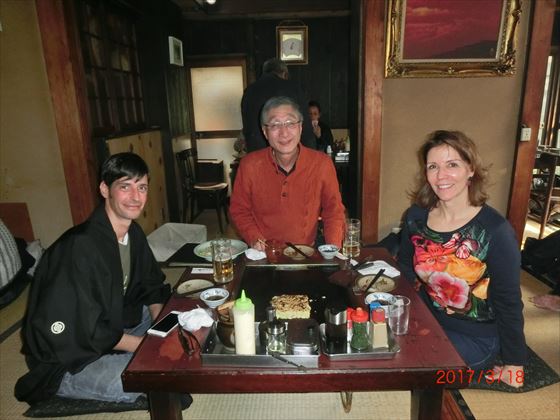 Thanks TFG. Muchas gracias.
Nuestro guía en Tokio, Koichi, nos ayudó muchos, es alegre, paciente, te cuida mucho y fueron dos días estupendos. Y nos llevó a unos restaurantes fantásticos, donde pudimos probar cosas nuevas.
Thank you Koichi for your care and concern with us. It made our visit better.
Unforgettable.
:The name of the guide is Koichi Yamazaki
Anna from USA
Posted on 2017.03.29
Review Ryuichi Yamamura was the guide assigned to us on March 24. He took us to the Asakusa area as well as the Ueno, Yanaka neighborhoods and by special request, a yakitori lunch. We spent 7 hours altogether, not only to see popular sights like Sensoji but also time to talk and exchange much information about the way of life in Japan. Ryuichi gave us not only great information but was very generous with his time in terms of sharing in depth views of various topics like education, politics, health, etc. He has a great sense of humor and was very open to answering all our questions. No professional guide or guidebook have ever taught us so much about a place we visited as our day spent with Ryuichi. Thank you so much for letting him guide us. We feel that we have been taken around Tokyo, despite the fact that we did not cover much area, by a good friend who clearly care greatly about sharing his experiences with us.
Katrina from Philippines
Posted on 2017.03.29
Susan & Connor from USA
Posted on 2017.03.23
Rosalba from Italy
Posted on 2017.03.13
Michelle Pereira from India
Posted on 2017.03.06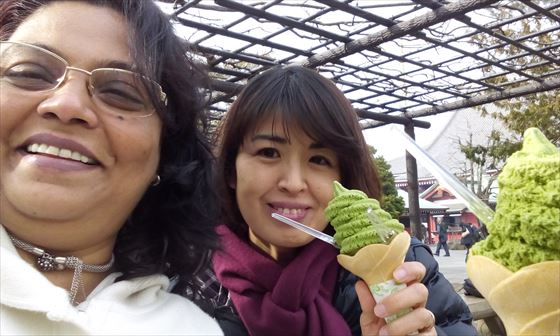 Thank You Yuri Hanakame. For the wonderful experience in Japan, for making sure we completed every place to see, food to eat,things to buy and especially for the little notes you made of my daughters wish list from Japan.You are such a warm, caring and wonderful person .I return home with such wonderful memories of Japan the people,the food and the beautiful souvenirs. Surely going to recommend you to my friends and family. God Bless you and hope we meet sometime.
Heather from United Kingdom
Posted on 2017.02.27
Jamie from United States
Posted on 2017.02.15