Testimonials
Jean from Austlaria
Posted on 2016.08.07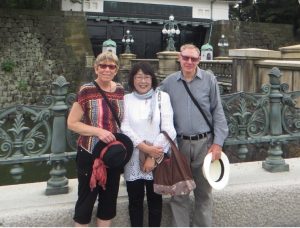 If there was a rating that was higher than Excellent" then we would give it to Akemi. She is an absolute gem and we thoroughly loved the two days we spent with her. The programs she figured out for us worked very well and we were kept on our toes for two full days. She is a very fit lady and we became fitter for spending time with her. Akemi, remember the 23000 steps ;). We found Akemi to be very friendly and knowledgeable. She was amazing at navigating the train stations - something we would have found nigh impossible. She took us to places we would never have seen ourselves. We especially enjoyed the traditional lunch. It is one of many highlights we will remember for ever . Akemi is such a wonderful lady and we hope to keep in touch with her now we are back in Australia. Jean
Zara from UK
Posted on 2016.07.13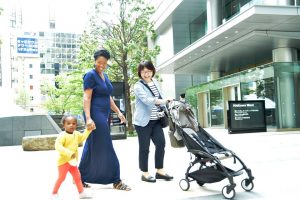 My 22 month old daughter and I had the pleasure of spending the day
with Naoko Dasuze exploring Roppongi Hills, where we visited the
art museum and observed the city from the Tokyo City Observation Deck.
We also spent time in Midtown Park. Naoko was also kind enough to
meet us the evening before and show us around the area where we were staying.
She was kind enough to help us get a Pasmo card and give us an introduction
to the Tokyo Metro system. Naoko was patient, knowledgeable and friendly.
I would definitely recommend her as a guide.
Love from London - Aiko & Zara.
Catherine from France
Posted on 2016.07.13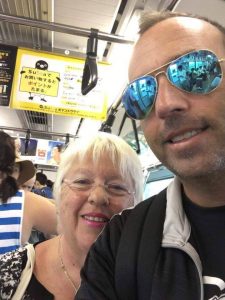 Me from France and my son Laurent from St Barth (french west indies) had a great time with our guide Kitty (Kaoru Tachibana). We walked 18 km, took metro, trains, with great explanations, visited a lot of places in one day (shrines, big stores, small stores... streets... Shinjuku, Hakihabara, Shibuya, Ueno...etc...and we look forward to come back. Catherine
Veron from Singpore
Posted on 2016.06.18
George from Canada
Posted on 2016.05.23
April 26/2016 Tokyo tour We had the pleasure and privilege to spend essentially a whole day with our Tokyo Free Guide Mr. Mitsuo Ogishima. His depth and breadth of knowledge about Tokyo and Japan in general, including customs/foods and locations was clearly extensive and he very enthusiastically, and in depth, shared this with us. We learned far more than we expected and enjoyed ourselves immensely. The day spent with him was the highlight of our Asian trip (5 countries) and we would wholeheartedly recommend his companionship to anyone visiting Tokyo. Joelle and George R
Rita from Australia
Posted on 2016.05.23
Our tour guide for two days was Mayumi Iriko. There were 3 adults and two children in our family group. We suggested places we would like to see, and Mayumi sent us a suggested itinerary. She was wonderful. Thanks to her friendly nature and good English, she taught us how to use the Metro , how to purchase and top-up a Suica card, and many other things . After two days with Mayumi, she left us confident to travel on the Tokyo transport system without any fear. She included things in the itinerary that we didn't mention. These side trips, including one to Harajuku for fashion shopping, was a highlight for our daughter. She also researched additional things for us to see, such as when one of the children mentioned he would like to see some Judo lessons. Rita
Jeffrey from USA
Posted on 2016.05.21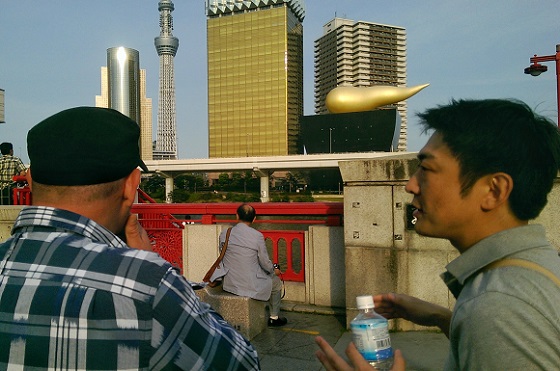 Best Day Ever! Thank you! I am so happy that we found TFG and that Max ( Yoshitake Tajima) was our guide in Tokyo! We had a lot of fun just planning the trip - emailing back and forth. I wanted to spend a half-day exploring Akihabara and visit Asakusa during the Sanja Matsuri festival, try some Japanese food and get to know a bit about Japanese daily life. Max was the best guide, we are so lucky to have met him! His itinerary was perfect - and he was flexible on the day of the tour, allowing us to see much more than we had hoped. I can't recommend Tokyo Free Guide enough - it was the highlight of the trip for all of us. We consider Max our new friend, and we all plan on staying in touch. Could not have been better! Thank you! Jeffrey
Fabio from Italy
Posted on 2016.05.21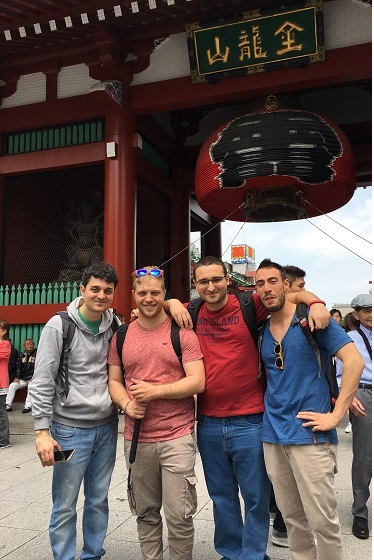 Grazie per il servizio - Thank you for your service I would like to thank your organization on behalf of myself and my friends for the work you do in voluntarily. We used your services on 13/14 May 2016 with the guides Kaori Yamada and Amica Maeda that have brought us to visit many areas of Tokyo also providing useful information. Surely it is a service that we recommend using all tourists. -- Vogliamo ringraziare la vostra organizzazione per il servizio che fate in modo volontario. Abbiamo usufruito dei vostri servizi il 13/14 maggio 2016 con le guide Kaori Yamada e Amica Maeda, che ci hanno portato a visitare molte zone di Tokyo fornendoci moltissime informazini utili. Sicuramente un servizio che consigliamo di usare a tutti i turisti che intendono visitare Tokyo. Fabio
Philip from USA
Posted on 2016.05.15
Kiuko-san, Thank you so much for a perfect day! Dear Kiuko Sakurai, I really like to thank you for your company yesterday (5/4/2016)! I loved the peaceful Toyokawa Inari Shrine (and the fox!), the amazing Asakusa (and the "portable" shrines haha...), the perfect river cruise (I enjoyed it very much), the peaceful Hama-Rikyu Gardens (the Fujimiyama Hill looking over the pond though we can no longer see Mt. Fuji from there :)), and the incredibly busy and fun Ueno! It was so perfect (including the super delicious sushi lunch!) I could not imagine or hope for a more perfect day or guide! :) Again, thank you so much for all your wonderful planning, your time, your graciousness and your friendship!!! :) Warmest regards, Philip
Phillip Garcia san enjoyed Tokyo with our guide Akiko Muraoka.
Posted on 2016.05.05
Zoraida Delgado san gave us a wonderful message.
Posted on 2016.05.05
Kevin Huynh san gave us a positive feedback.
Posted on 2016.05.05