Testimonials
Michele from USA
Posted on 2017.08.06
Michael and Esta from South Africa
Posted on 2017.08.06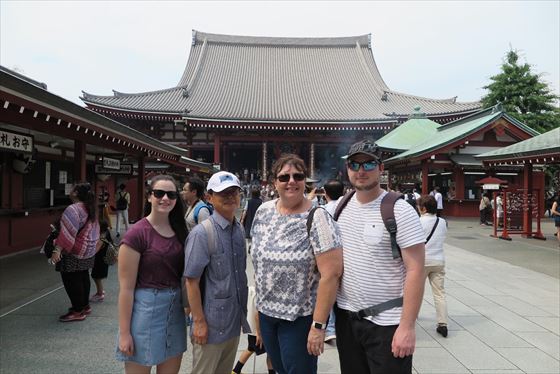 I would like to thank Mr Takao Omote and the wonderful service Tokyo Free Guides offer. We had a unforgettable 2 days with Takao exploring Tokyo. He was such a gentle soul and had the patience of well .. only Mr Takao Omote can have. Takao asked us what we want to see and he worked out a wonderful program out. We are a family of 4 and he could relate from my daughter shopping (teen) to my sons anime characters and my and my wife's love for gardens. He was very kind to even help us plan for the rest of our stay, even working out traveling plans and giving us maps. We saw and experienced allot of Tokyo in 2 days Tokyo more than we ever could on our own. He explained in detail all the wonders and cultures of lovely Tokyo. He is well spoken in English and we had no problems communicating, even if our 1
st
language is not English to. We will forever remember you Mr Takao Omote and the wonderful memories and moments we had exploring Tokyo. Michael --------------------------- Mr Takao is an absolute treasure! When we got his first emails, we were a little bit skeptical what to expect when he told us, he can be our tour guide. Our expectations were ??? More than Met??? He is such a friendly, helpful and kind man. He went out of his way to help us make our stay in Tokyo even better! He informed us about the sights we went to see, his outlook is so positive and we could see Japan through his eyes, a country which he loves! He proposed that we tried the ancient tea ceremony, we treasure the experience. He gave us maps to help us getting around and we were so grateful for all the help. We were left with a sadness the second day when we had to say good bey!! He said we can return the favor in our county when we get a chance to help a Japanese person! What a caring man!! Esta Thank You Mr Takao Omote Your Nel family from South Africa Cape Town :The name of the guide is Takao Omote.
Rodrigo and Alejandra from Colombia
Posted on 2017.08.06
Hi,
I just want to thank for the amazing experience we have with our guide Kana Masuda. We visit with her the fish market and the markets around it and eat very nice fish for breakfast , then we went to theater, then to a beautiful temple where we learn about the local experience, then to beautiful trip thru the river where we learn about bridges and finally and amazing and delicious ramen for lunch in Roppongi. We really enjoy our time with Kana and will be always grateful with her. Thanks a lot again. This service is amazing.
:The name of the guide is Kana Masuda.
Amy and Savannah from USA
Posted on 2017.07.30
Hello I recently had a tour with Chinami Nishizawa. She was an excellent tour guide! I came to Tokyo with my 7 month old baby and was very nervous about getting around with a stroller on the Tokyo subways. Chinami completely created the tour for my baby and I. We went to baby stores and visited monuments. It was truly one of the best experiences I had in Tokyo . I am so grateful to Chinami and Tokyo Free Guide. Thank you so much! Amy and Savannah
:The name of the guide is
Chinami Nishizawa.
Julie from Australia
Posted on 2017.07.30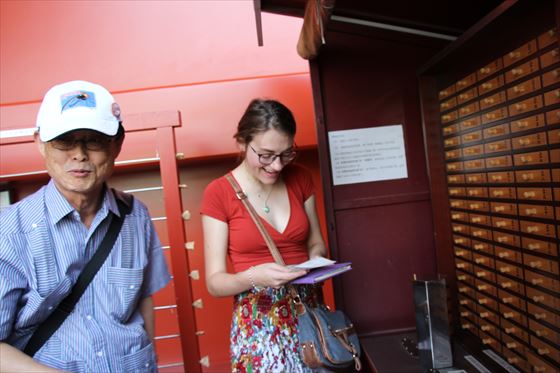 Takao Omote was a fabulous guide with a great sense of humour and a vast knowledge. We visited Tokyo on 7th July 2017 for a one day tour and saw everything we requested. We had a fabulous lunch and saw a great deal along with learning about the complex transport system. I would gladly recommend Takao to my family and friends. :The name of the guide is Takao Omote.
Jackson from Canada
Posted on 2017.07.30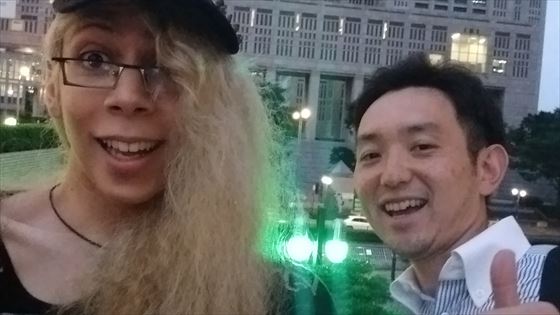 Great time, very helpful!
My guide, Takahiko Sugie, was great! I only really had one important request I made of him, which was that we had to visit my favorite band's bar so he could help me talk to the singer, and he did a great job asking him all my questions and translating for me. Before we went he also showed me great hospitality by taking photos with me in famous locations and treating me to izakaya food in golden gai, something I had always wanted to do! Sugie-san was very friendly and we talked a lot about Japanese music and culture. I had a great time with him, and he helped make my dream come true! :The name of the guide is Takahiko Sugie.
Lorena from Mexico
Posted on 2017.07.29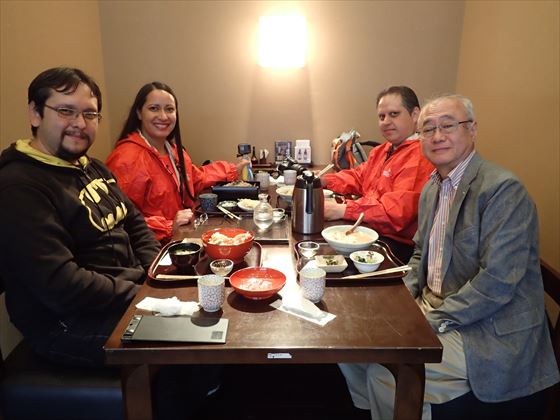 The perfect visit
We visited tokyo on May the 10th, our guide was Ken Kinoshita. We visited the edo museum, saw a sumo training (thanks to ken) and akihabara. Ken was very kind with us, he explained lots of aspects of the Japanese life and he recommended very nice places to eat, where he showed us what the local people eat. We visited a bar and we ate sashimi of tuna fish and octopus, tuna neck, soy beans, tofu and others things that maybe we would never try, thanks for it. Ken is a excelent guide and even after the tour finished, he helped us with many things that we didn't know how to resolve, thank you so much!!!! I really appreciate this website because can make the tourists feel better talking with somebody who knows better the place and can show hidden jewels. Our travel was incredible because of you guys. Thanks from the bottom of our hearts. :The name of the guide is Ken Kinoshita.
Carlos from Spain
Posted on 2017.07.29
Atsuko showed us around Ikebukuro, both the big comercial areas and the small parks and temples, as well as a local shopping and dinning area in Akabane. She is a great guide and a really interesting person to talk to. Thanks for guiding us! :The name of the guide is Atsuko Asada.
Maria from Mexico
Posted on 2017.07.29
wonderful visit to Japan we had a wonderful trip to Japan our guide was Hiroshi Soma, and he made everything easier in our stay, help us to organized our journey, let us know how to move in japan the better way, our best sushi restaurant was with him (because he is local), we highly recommended Hiroshi to make your stay incredibly. :The name of the guide is Hiroshi Soma.
Marta from Portugal
Posted on 2017.07.29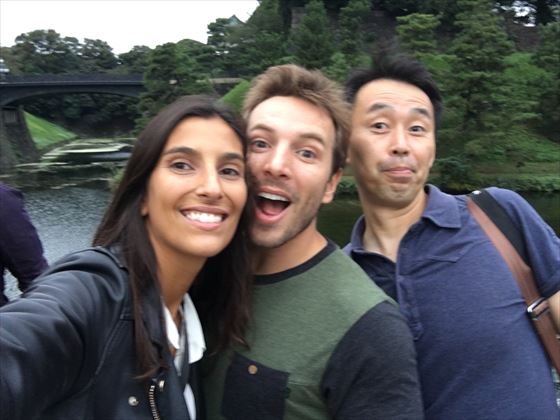 See Tokyo like a local!
We found out about Tokyo Free Guide from a friend and decided that we should definitely try it as it would be a different way to get to know the city, and I'm soooo glad we did. We were very very lucky to have had Akinori-san as our guide, he was incredible! I told him beforehand that we enjoyed cycling as a hobby and he was able to find a shared bike system that we could all use to move around the city. It was amazing! Aki-san took us to wonderful places and took fantaaaaaastic pictures of us! We could not have asked for a better guide and will cherish this special day forever. Arigato gozaimasu! :The name of the guide is Akinori Tatsumi.
Tim and Ning from USA
Posted on 2017.07.29
Hiroshi as such a blessing for our family. He had the entire day scheduled and it was perfect. We wanted to see the traditional side of Tokyo and he did not disappoint. We enjoyed every minute that we spent with Hiroshi. He was extremely knowledgeable about the history of the different shrines and was extremely patient with our many pictures. We can't thank Hiroshi enough for the memories he provided. The name of our guide is Hiroshi Iida.