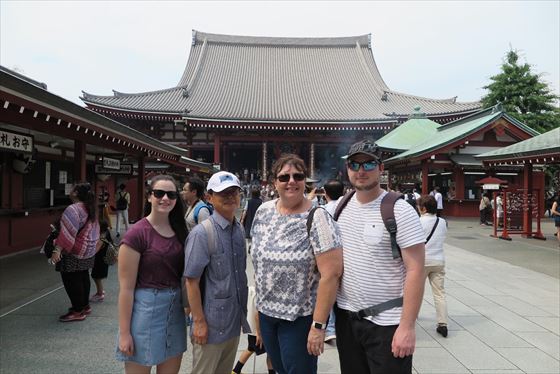 I would like to thank Mr Takao Omote and the wonderful service Tokyo Free Guides offer.  We had a unforgettable 2 days with Takao exploring Tokyo.  He was such a gentle soul and had the patience of well ..  only Mr Takao Omote can have.   Takao asked us what we want to see and he worked out a wonderful program out. We are a family of 4 and he could relate from my daughter shopping (teen) to my sons anime characters and my and my wife's love for gardens.  He was very kind to even help us plan for the rest of our stay, even working out traveling plans and giving us maps.     We saw and experienced allot of  Tokyo in 2 days Tokyo more than we ever could on our own.  He explained in detail all the wonders and cultures of lovely Tokyo.  He is well spoken in English and we had no problems communicating, even if our 1st language is not English to.
We will forever remember you Mr Takao Omote and the wonderful memories and moments we had exploring Tokyo.
Michael
—————————
Mr Takao is an absolute treasure! When we got his first emails, we were a little bit skeptical what to expect when he told us, he can be our tour guide.  Our expectations were ??? More than Met??? He is such a friendly, helpful and kind man. He went out of his way to help us make our stay in Tokyo even better! He informed us about the sights we went to see, his outlook is so positive and we could see Japan through his eyes, a country which he loves!
He proposed that we tried the ancient tea ceremony,  we treasure the experience. He gave us maps to help us getting around and we were so grateful for all the help. We were left with a sadness the second day when we had to say good bey!! He said we can return the favor in our county when we get a chance to help a Japanese person! What a caring man!!
Esta
Thank You  Mr Takao Omote
Your Nel family from South Africa Cape Town
:The name of the guide is Takao Omote.