Testimonials
Elena from Spain
Posted on 2018.01.04
David from USA
Posted on 2018.01.03
Mindaugas from Lithuania
Posted on 2018.01.03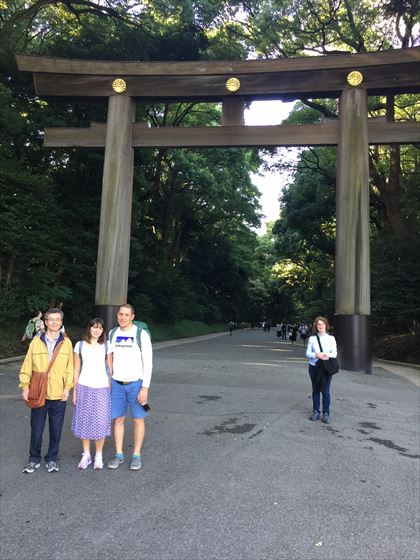 We liked the service - it's a great example how retired people could be engaged in active work. Attention to westerners - Japanese retirees are in better shape than you are, so you would probably cover a lot of miles :) It was a great experience for both of the sides - while walking we talked a lot about differences of our cultures and getting to know Japanese people in person is probably the unexpected best part of TFG service. :The name of the guide is Ryuichi Yamamura.
Alfred from Indonesia
Posted on 2018.01.03
Tokyo 1001 We were a group of 5, visiting Japan on a graduation trip. Online request was easy, Mr. Shuji was highly accommodative towards our request and he also ask specific questions to fully understand my group's character and interest (as far as our meal preferences) . He's also very helpful with all my questions regarding Tokyo before hand. Knowing i personally am a sumo fan, he also surprised me with some sumo goods as a gift. Mr. Shuji is well prepared and very friendly throughout the tour. He is also very flexible with us. His explanations helped us to understand more about the places we visit, which we certainly will not know that much without his guide. It's a mistake we booked TFG for our last day in Tokyo. We knew the surroundings more after just a day with him. I would fully recommend the TFG service and definitely will use TFG again for my next trip. :The name of the guide is Shuji Okamoto.
Elisa from Italy
Posted on 2017.12.23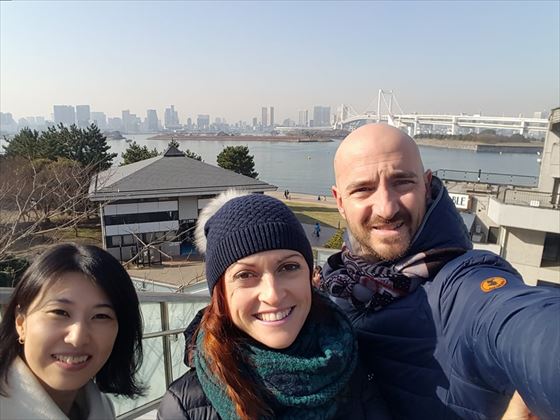 We wanted to thank our Yuko guide so much. Without her precious advice we would not be able to visit all of Tokyo ! She's an angel and sister for us! Thank's a lot! Volevamo ringraziare per il vostro servizio, ma sopratutto Yuko Suzuki la nostra guida, ci ha aiutato in tutto, si è sempre resa disponibile. È stata per noi come un angelo e una sorella. Complimenti tokyo free guide ! :The name of the guide is Yuko Suzuki.
Cristina from Italy
Posted on 2017.12.23
Anita from Australia
Posted on 2017.12.23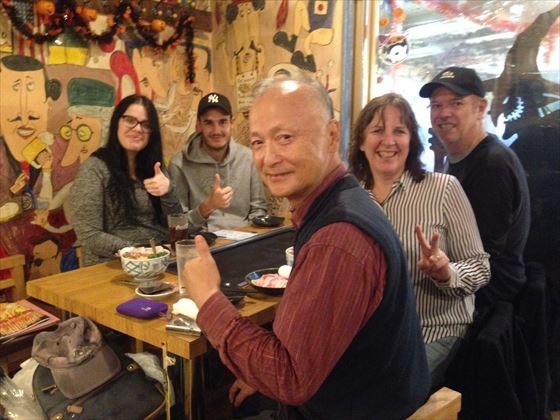 What a great service
I cannot recommend this service highly enough. Yasushi supplied us with a detailed itinerary before the tour and kept in contact by email. He guided us around Tokyo in a very friendly, knowledgeable way and when our second day turned out wet he adjusted the tour to fit in. He took us to a delightful restaurant that we would never have known about and we all very much enjoyed discovering Tokyo with him. He spoke very good English. Thank you for two amazing days. :The name of the guide is Yasushi Sukumoda.
Thanh from Australia
Posted on 2017.12.23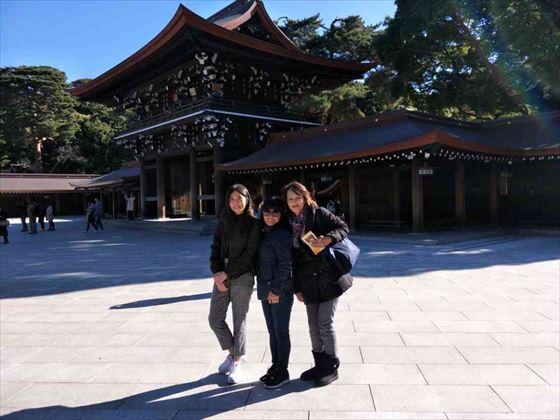 Great Tour
We were guided through Tokyo for 2 days by Haruko Ota and it was simply amazing. She was very considerate towards our request and always did her best to create a tour that catered to our family's interests. She did not hesitate to answer any of our questions and communications with her both online and in real life was not a problem. We would definitely use tokyofreeguide again and would recommend Haruko to anyone. :The name of the guide is Haruko Ota.
Nelson from Philippines
Posted on 2017.12.23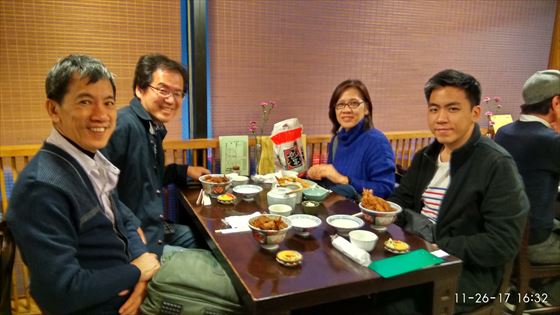 One Autumn Day in Tokyo
Had a wonderful Sunday Around Tokyo on Nov 26 2017. Mr Kazushi Ohnuma came prepared with a Guide booklet highlighting the areas that was instored for us. In the tradition of a Japanese, he was early to meet us at the hotel reception. In one day, we visited Ueno Park, Tokyo Station, Marunochi, Imperial Palace Garden, Ginza & Asakusa. With it, we had ramen lunch in Tokyo Ramen street, Hokkaido soft serve ice cream in Ginza and cap off with a delectable tempura dinner at Asakusa. With him, we got a glimpse and a taste of Tokyo life and flavors thru his eyes and sharing. We are thankful for TFG service and avenue for foreigners and Japanese to intermingle and enhance cross cultural exchange. Arigatogozai Masu. :The name of the guide is Kazushi Ohnuma.
Bjorn from Sweden
Posted on 2017.12.23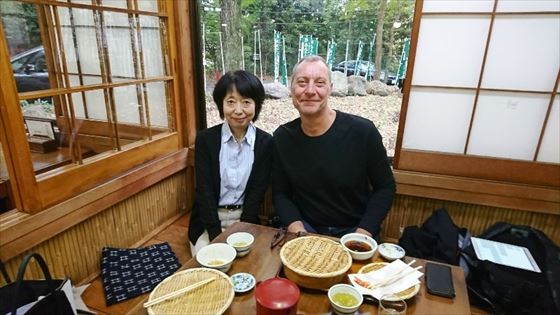 Great day in Tokyo
My guide, Mrs Katzue Matsumoto, was the very best! We spent a fun and wonderful day visiting the Jindaiji Temple and the nearby botanical garden, the Inokashira Park and Kichijoji. Service was perfect and I'm so happy to have used the TFG. Amazing work! :The name 0f the guide is Kazue Matsumoto.
Lorelie from Australia
Posted on 2017.12.10