Testimonials
Lindsay from Canada
Posted on 2017.01.18
We spent Oct. 4 with Akemi Ohtaki. We were so happy to be able to see Tokyo with a local, and she was able to provide a lot of insight we wouldn't have had if we only had a guidebook. She was absolutely fantastic, and it was one of the highlights of our trip. We visited Asakusa, Shibuya, Shinjuku and Harajuku. It was a busy day, but Akemi managed to squeeze in what we wanted to see, and was very informative and friendly in our communications beforehand and while we were with her. We really enjoyed getting to spend the day with her!
Mirko & Marta from Italy
Posted on 2017.01.17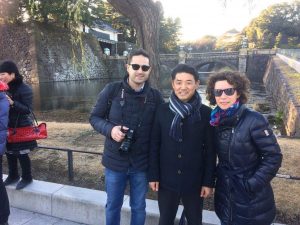 Tokyo Free Guide is a wonderful way to discover the city. Thanks to Mr. Soichi Tatsuzato on 1st January we start our trip from the old city in particular Asakusa, then we have visited Akihabara, imperial palace and a lot of ancient temples finally we arrived at Ginza. We walked 23 km!!! He was very kind and suggested us other things to see, than he has prepared us a best itinerary for a trip to Kyoto.
Brandon from USA
Posted on 2016.09.13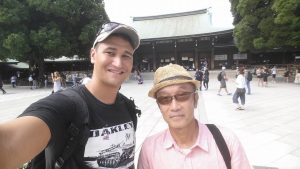 Amazing trip to Tokyo! Mr. Makita "Macky" took me on an action packed adventure through Tokyo on September 4th. We saw Asakusa shrine, Sensoji temple, Meiji shrine, Harajuku, Shibuya, and Shinjuku. I can't believe how much we saw
in one day
. If Macky agrees to be your guide, you should consider yourself fortunate. He knew dates, times, measurements, and history of everywhere we went! He was very polite and entertained my 9999999 questions, haha. I think we walked over 20K and Macky never looked tired! Thank you again Macky, and thank you TFG! Brandon
Dinna from Canada
Posted on 2016.09.13
Karen from UK
Posted on 2016.09.07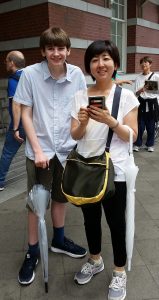 Amazing trip to Imperial Palace and Meiji Shrine We had an absolutely amazing day with Risa san (Risa Sato), our guide. This was one of the highlights of our trip without doubt. You simply cannot get the same level of information, or interest from a guide book. I would recommend to everyone! And on the way to the Imperial Palace, when we were at Tokyo station, we only got to see Emperor Akihito no less! who was arriving at Tokyo station en route to an event. Awesome! (The photo is Risa and my son outside Tokyo station waiting for the emperor to arrive) Karen
Samantha from Italy
Posted on 2016.08.27
Jean from Austlaria
Posted on 2016.08.07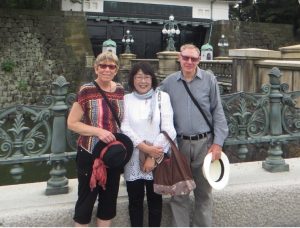 If there was a rating that was higher than Excellent" then we would give it to Akemi. She is an absolute gem and we thoroughly loved the two days we spent with her. The programs she figured out for us worked very well and we were kept on our toes for two full days. She is a very fit lady and we became fitter for spending time with her. Akemi, remember the 23000 steps ;). We found Akemi to be very friendly and knowledgeable. She was amazing at navigating the train stations - something we would have found nigh impossible. She took us to places we would never have seen ourselves. We especially enjoyed the traditional lunch. It is one of many highlights we will remember for ever . Akemi is such a wonderful lady and we hope to keep in touch with her now we are back in Australia. Jean
Zara from UK
Posted on 2016.07.13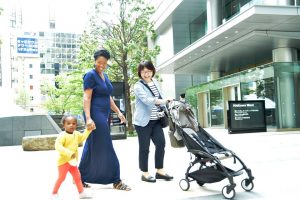 My 22 month old daughter and I had the pleasure of spending the day
with Naoko Dasuze exploring Roppongi Hills, where we visited the
art museum and observed the city from the Tokyo City Observation Deck.
We also spent time in Midtown Park. Naoko was also kind enough to
meet us the evening before and show us around the area where we were staying.
She was kind enough to help us get a Pasmo card and give us an introduction
to the Tokyo Metro system. Naoko was patient, knowledgeable and friendly.
I would definitely recommend her as a guide.
Love from London - Aiko & Zara.
Catherine from France
Posted on 2016.07.13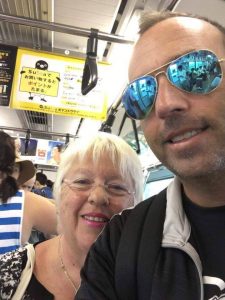 Me from France and my son Laurent from St Barth (french west indies) had a great time with our guide Kitty (Kaoru Tachibana). We walked 18 km, took metro, trains, with great explanations, visited a lot of places in one day (shrines, big stores, small stores... streets... Shinjuku, Hakihabara, Shibuya, Ueno...etc...and we look forward to come back. Catherine
Veron from Singpore
Posted on 2016.06.18
George from Canada
Posted on 2016.05.23
April 26/2016 Tokyo tour We had the pleasure and privilege to spend essentially a whole day with our Tokyo Free Guide Mr. Mitsuo Ogishima. His depth and breadth of knowledge about Tokyo and Japan in general, including customs/foods and locations was clearly extensive and he very enthusiastically, and in depth, shared this with us. We learned far more than we expected and enjoyed ourselves immensely. The day spent with him was the highlight of our Asian trip (5 countries) and we would wholeheartedly recommend his companionship to anyone visiting Tokyo. Joelle and George R
Rita from Australia
Posted on 2016.05.23
Our tour guide for two days was Mayumi Iriko. There were 3 adults and two children in our family group. We suggested places we would like to see, and Mayumi sent us a suggested itinerary. She was wonderful. Thanks to her friendly nature and good English, she taught us how to use the Metro , how to purchase and top-up a Suica card, and many other things . After two days with Mayumi, she left us confident to travel on the Tokyo transport system without any fear. She included things in the itinerary that we didn't mention. These side trips, including one to Harajuku for fashion shopping, was a highlight for our daughter. She also researched additional things for us to see, such as when one of the children mentioned he would like to see some Judo lessons. Rita