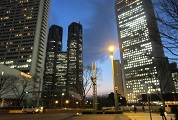 TOKYO FREE GUIDE NEWS!
New     :Pray for Paris. Click Here.
---
New   :   - Notice to Guests--
 We wish to inform you that it will be difficult to find a guide for
you during the late December and early January time period.
Japanese 
 people traditionally celebrate the Year-end and New Year Holiday with 
 their families so there are not many guides available.
---